Click on the months below to link directly to that month or press ctrl + F for a find dialogue box.
Jan | Feb | Mar | Apr | May | Jun | Jul | Aug | Sep | Oct | Nov | Dec
Many thanks to all contributers in 2005: Paul Gregory, Andy Foan, Julian Gutsell, Nick Workman, Paul Bowerman, Paul Moon, Chris Powell, Bardi Collins, Geoff Pudney, Dave Nevitt, Steve Ogden, Rich Bonney, Tony West,
1 Richards Pipit reported at Axe Est in rough area between sea walls
2 Short Eared Owls at Weston STW
6 Purple Sandpipers at Birnbeck Pier (best viewed at high tide)
2 Short Eared Owls at Sand Bay marsh
1 Woodcock at Weston Airfield
1 Chiffchaff heard at Weston Airfield
Weston STW 2 nd Jan
Richards Pipit still present this morning 40yards north of the burnt hide.
Black Necked Grebe still present this morning around the south east corner of the furthest UV pool also 2 Raven and a Peregrine in the area and a chiffchaff in bushes along the road.
Weston STW 3 rd jan
Richards Pipit reported a couple of times briefly early morning.
Black Necked Grebe middle of western UV pool
7 Purple Sandpipers roosting at high tide at Birnbeck.
Weston Airfield 4 th jan
1 Cettis Warbler singing at the south end of the airfield
1 Woodcock flying around the west end of the airfield
1 Peregrine perched nr the runway of the airfield briefly then flew north
6 th Jan
No owls in the roost on the hill, none came down the valley at dusk either. 4 Woodcock though. Shoveler and 8 Tufties viewable on the Axe 1/2 a mile up river of Bleadon bridge! No sign of Barn Owl scoping the sewage works and Bleadon level at dusk from the hill. Other birds noted were Peregrine, Green Woodp and Tawny Owl.
22 nd Jan
50 Waxwings were seen early morning along the queensway near the church moving west. They were then located on Cornwallis avenue. 15 stayed until mid morning at least feeding on two rowan trees.
1 Golden Plover heard calling over Weston Airfield at first light.
23 rd Jan
10 Waxwings seen at St Marks Church the flew south
3 Waxwings at Cornwallis Avenue
1 Waxwings at Carre Avenue
11 Waxwings at coming to a rowan tree in the front garden next to the car park in the Scaurs and then flying up to a tree behind Worle Library.
1 Waxwing in Wigmore Gardens (7 here yesterday)
24 th Jan
2 Waxwings in tree in front of Unit 2, Bridgwater Court until 13:50 at least.
25 th Jan
2 Waxwings present again this morning in front of unit 2, bridgwater court.
26 th Jan
4 Waxwings commuting between Cornwallis Avenue and the cemetary at 9:00 this morning.
No sign of Waxwings at Bridgwater court this morning. They were last seen at 12:45 yesterday.
5 Waxwings at Cornwallis Avenue at 2:00PM
27 th Jan
1 Waxwing present at Cornwallis Avenue this morning at 08:50
20+ Waxwings reported yesterday on Hollow Lane. This lane starts from the junction of Ebdon Road where the Nut Tree Pub is. No sign of any there by 8:40 or at The Scaurs this morning.
Mid day update:
1 Waxwing Cornwallis Avenue
8 Waxwing Wigmore Gardens
30 Redwing Hollow Lane
9 Waxwings at Cornwallis Avenue at 2:30 for ten minutes then flew towards crematorium.
28 th Jan
20 Waxwings seen at Ebdon road nr crematorium at 1pm
29 th Jan
1 Waxwing at Ebdon Road by the crematorium at 1:00PM. (the other 19 must be feeding at an undiscovered site).
5 Purple Sandpipers at Birnbeck on rocks by prom at high tide
1 Stock Dove, 1 Nuthatch, 1 Treecreeper at Weston Wood
1 Blackcap at Worle Hill
Sand Bay nr. Weston super Mare, today approx. mid-day.
Believe to be a single male Marsh Harrier at north end of bay about 6 to 800 metres out in bay. Only had a twopenny-happeny pair of bins and bird view into sun. Flying low and flat, then settled, to fly again low and straight, leaving me with impression of light colouring combined with dark. It settled again in long spartina grasses out of sight. Could not pursue the sighting further as I was dragged off screaming by lady and dog.
30 th Jan
No sign of any Waxwings between 7:30-8:00AM and 11:40-12:40.
Weston Sewage Works:
1 Spotted Redshank 200yds north of sluice on river Axe
1 Black Necked Grebe on UV pools
1 Merlin seen 200yds south of boat yard flying inland
40 Golden Plover in field next to river Axe on somerset side
5 Black Tailed Godwit on UV pools
2 Jack Snipe seen
1 female Black Redstart at Brean Cove, Brean Down
2 Waxwings in Cornwallis Avenue at 3:18PM. A local resident said that they had been there for the last half an hour.
No sign of yesterdays harrier from 5:10PM til dusk at Sand Bay marsh. Although did see 4 Short Eared Owls and 1 Jack Snipe.
1 Firecrest in my garden (RAF Locking) at 0800 this morning. (Chris Powell)
31 st Jan
3 Waxwings at 1:20PM in trees in the south east corner of the crematorium from ebdon road.
1 st Feb
5 Purple Sandpipers at Birnbeck
6 th Feb Sand Bay
Rather quiet. No sign of a Dartford but we did follow a pair of Stonechats around for a while in the hope it was tagging on behind as Dartfords do. A drake Pintail flew north round the point on its way from the Axe to the Yeo. Chiffchaff in the car park.
13 th Feb
2 Goosander (1M and 1F) flying west over weston airfield.
Was out for a run so no bins. Through the Uphill boat yard to follow the main trail to Water Works. Just over the hill to the left in field several hundred yards from decent stretch of water were 70 to 80, maybe more mute swans. There were some was not sure about could they have been Bewicks --- distance off was maybe two hundred or more metres.
It was very very windy, probably force 7 or 8, so few birds were to be seen at all. On reaching the Water Works tanks there was hardly a thing to be seen, few coots, 3 or 4 tufteds hiding in corner and a few brent geese on the diving ridge between tanks.
There are 52 Mutes in the area today (16th Feb). 46 in fields east of the burnt hide and 6 in a field nr the model racing track. All were Mutes but the numbers are down compared to previous weeks.
23 rd Feb
Watched a Barn Owl hunting in feilds in between Loxton and Rooksbridge whilst on my way to work at 6.30 this morning.
It's the third time i've seen the bird in the past couple of months so you might get lucky if you go to have a look.
Probably better to go at dusk.
27 th Feb
Today again passed through the nature reserve on my run. Stopped briefly to cound Mute Swans in field near Water Works station. The numbers have increased to possibly 90 to 100 birds.
Hardly anything else sighted, no geese and just a few coots and two Tufteds on the large tanks.
11 th March
Surprised to see a grey wagtail at the rear of one of the hotels between Knighstone slipway and the crazy golf course. It was I believe a male with most distinctive black bib. Probably breeding plumage.
To my surprise it was mooching about in a rather grotty back yard with no shrubbery nor garden at all --- not even a weed to be seen. There was evidence that a dog was a regular visitor here, it was not open to wandering fidos.
The hotel is just across the road from the beach where I have seen grey wags on the rare occassions. Pied wags are regular seen most days.
12 th March
Wheatear reported on Brean Down today.
13 th March Brean Down
3 female black redstarts: 2 at top of steps and 1 at fort. 1 of them was the ringed bird.
1 female bullfinch from the bottom track.

15 th March Brean Down
1 Wheatear on concrete platforms nr fort.
2 Alba wagtails in off sea and flew east. From the call would say they were White Wagtails.
1 Golden Plover and 3 Sanderling on Brean beach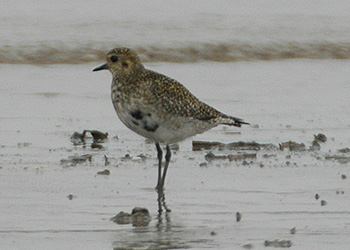 18 th March Brean Down
2 Wheatear reported today, 1 at the fort and 1 at the cove
19 th March Banwell
No sign of the L.S Woodpecker.
5 Buzzards, 4 Goldcrest, 4 Long tailed Tits, 1 Nuthatch and a very vocal Green Woodpecker that i never managed to catch up with.
20 th March Sand Point
Per P.Gregory Party of c10 Sand Martins go north over the house mid afternoon, which was a nice house tick.
21 st March Brean Down
100% cloud cover and a 13mph south easterly wind with just about 4 mile visibility.
1-2 Ring Ouzel nr the trig point (very flighty and mobile)
9 Chiffchaff
80 Meadow Pipits
No Sand Martins or Wheatears.
22 nd March Brean Down
18mph southerly wind with some rain around. 100% cloud cover with 8 mile visibility
3 Wheatear: 2 nr trig point and 1 nr top of steps.
3 Chiffchaff: 2 along bottom track and 1 in car park.
25 Meadow Pipits on down.
23 rd March Brean Down
13mph southerly wind. 95% cloud cover, visibility 6 miles. The presence of scattered rain clouds seems to have reduced the amount of migrants coming through.
3 Bullfinch on the end of the down. 2 flew strongly west out to sea towards Steep Holm
4 Chiffchaff: mainly on the east half of the down
1 Coal Tit came in from the south and remained very flighty calling constantly.
Coal Tit photo: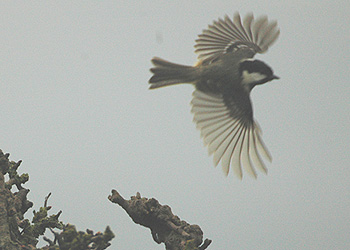 25 th March Brean Down
100% cloud cover, light (5mph) south/south easterly wind. visibility 6 miles. Less migrants than expected:
4 Chiffchaff
3 Willow Warbler on east end of down (9am)
1 Blackcap in sub song at bottom of diaganol track
1 Mistle Thrush. May have been a migrant or may have strayed from uphill
1 male Bullfinch singing on down.
20 Meadow Pipits
26 th March Brean Down
Clear night all night. 7mph easterly wind.
1 male Redstart at fiddlers point early morning
3 Wheatear on down
15 Goldcrest on down (3 nr trig point seen making test flights out to sea)
2 Blackcap at fiddlers point
1 Sand Martin north
1 Siskin west
1 Redpol west
15 Chiffchaff
10 Willow Warbler
Goldcrest photo: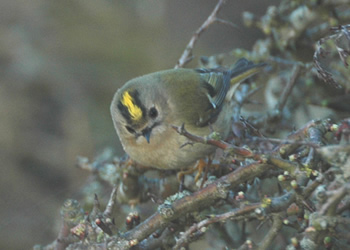 27 th March Brean Down
100% cloud cover, 2 mile visibility, 7mph north-easterly wind
52 Meadow Pipits over some north some west
1 hirundine over
2 Willow Warbler east end of down
2 Chiffchaff east end of down
Still 3 Purple Sandpipers at Birnbeck at high tide this evening.
1 Jack Snipe flushed from the old tip yesterday morning.
28 th March Brean Down
Virtually no wind, 100% cloud cover, with 6 mile visibility over land and less over the sea. Some light drizzle occured during the morning.
2 Dartford Warblers. 1 male and 1 female along the fort track 200yds NW of the steps. This my second spring record for here. The other was March 19th 2003 at the trig point.
1 Swallow west
1 Whitethroat heard singing briefly on slope south west of the trig point
1 Tree Pipit at trig point
28 th march Weston stw
3 Ruddy Duck on UV pools. 2 drake and 1 duck
1 Merlin nr UV pools. On size it looked like a female
16 Black Tailed Godwit roosting on UV pools
1 st april Brean Down
30% cloud cover increasing by 9am. Fog reducing visibility, approx 4 miles. 9mph southerly wind
3 Redstart: 1 on track above Sprat beach, 1 fiddlers point, 1 top of diaganol track
1 Tree Pipit over east end of down
7 Wheatear: 3 top of down between the two humps and 4 at fort
20+ Willow Warbler
8 Chiffchaff
3 Blackcaps: all singing males on down
chacking heard on down that sounded more like Fieldfare than Ring Ouzel.
1 female Bullfinch around fort
Redstart photo: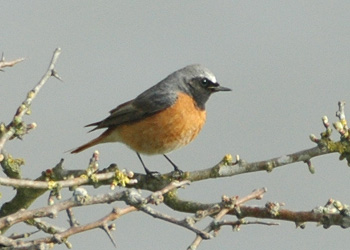 2 nd april Brean Down
Clear sky but foggy reducing visibility less than 2 miles. 11mph easterly wind.
1 Tree Sparrow at fort
1 Tree Pipit over east end of down
4 Wheatear
1 White Wagtail at fort feeding with Meadow Pipits briefly
15 Willow Warbler
2 Sand Martin north
50 Meadow Pipit
20 Linnet at fort
3 Blackcap
3 rd april Brean Down
100% cloud cover, <2 mile visibility, 15mph southerly wind
1 Little Ringed Plover east over the east end of the down towards Axe at 09:20 after having flown up from Berrow.
11 Swallow
4 Sand Martin
2 Tree Pipit
10 Willow Warbler
2 Chiffchaff
1 Wheatear
3 Blackcap
5 th april Brean Down
Clear day with a 15mph south westerly wind
Not much to report. The highlights being 4 Siskins flying out to sea from fiddlers point towards flat holm
2 Swallows west over the down
2 Canada Geese sat on the sea 150yds off the fort was an unusual sighting.
6 th april Brean Down
20mph south westerly wind with some light rain, 100% cloud, 6+ mile visibility.
2 Swallows battling past the fort and out to sea towards flat holm.
10 th april
Red Kite drifted high NE over WSM at mid day. Although moving high and very fast you could clearly make out the fork in the tail. The tail length and time of year eliminated Black Kite.
6 House Martins west over Weston STW mid morning.
11 th april Brean Down
100% cloud cover with 8+ mile visibility, 4 mph southerly winds.
1 Short Eared Owl hunting over fields at the junction of wick road and ham road at ST307550
1 Grasshopper Warbler reeling in bushes half way along the down.
2 Tree Pipits north over down
4 Swallows through
3 Sand Martin through
12 th april Brean Down
100% cloud cover, 13mph westerly wind, good visibility.
10 Swallows west
2 Redpoll west
1 possible Tree Sparrow heard calling only.
3 Blackcap
13 th april Brean Down
100% cloud cover, some light rain overnight up to 6:30am. 7mph westerly winds swinging southerly.
14 Swallows through
1 Whitethroat singing at fiddlers point
4 Blackcap
The partridge sp. still present.
14 th april Brean Down
40% cloud clear visibility, 12mph south westerly wind
1 Grasshopper Warbler reeling nr fort
2 Siskin west over fort
1 Redpoll east
1 Whitethroat east end of down
6 migrant Willow Warblers
6 Blackcaps
7 Swallows
2 House Martins
1 Merlin (female type) shot straight through and down the Axe.
14 th april old tip
partridge sp flushed from a ditch & flew on to disused driving range.
male wheatear seen here on tuesday (12th)
15 th april Brean Down
100% cloud cover, 8 mile visibility, 8mph northerly wind.
1 Seal 50yds offshore off the east end of sprat beach
1 male Redstart nr top of steps
1 Yellow wagtail north
30 Swallows north
5 migrant Willow warblers
4 Tree Pipits north
1 Whitethroat singing at fiddlers point
16 th/17 th april sand point
Per P.Gregory: Sunday we had a Red-throated Diver go up river at 8:20, which was only my second in Weston in 16 years. Apart from that, the Whitethroat was still present. I missed the Kite but not by much, c5 mins maybe. Still need it for my weston list!

16 th april Brean Down
short visit to the down this morning. In 45mins:
1 Grasshopper warbler reeling at fiddlers row (the straight leading to fiddlers point)
10 Swallow
2 House Martin
1 Tree Pipit north over the steps
c.5 migrant Willow Warblers
1 migrant Chiffchaff
17 th april sand point Brean Down
Clear skies, light easterlies changing to southerly winds and light rain by mid day.
1 Redpoll flying west over fort with a Goldfinch
3 Swallows
2 Whitethroat
Sand Point
2 Whitethroat
1 Stock Dove
several chiffchaff
3 Swallows
18 th april Sand Point
1 Cuckoo flushed from bushes north east of trig point and flew about 150yds west.
1 Short Eared Owl flushed from Swallow cliffs and landed on rocks further upstream. Later seen gliding over car park into sand bay.
11 Swallows. 3 north, 8 hawking over swallow cliffs.
19 th april Sand Point
good conditions for falls. clear skies and showers overnight with a light south easterly wind.
5 Tree Pipits over: 3N, 2W
4 Grasshopper Warblers reeling 2 Swallow cliff, 1 between swallow cliff and trig, 1 nr top wall
2 Redstarts in trees between trig point and wall
15 Blackcap
10 Willow Warbler
5 Chiffchaff
3 Yellow Wagtail over: 2 east, 1 north
1 Whimbrel heard calling from sand bay
1 Yellowhammer in/off sea later seen and heard on trees between trig point and wall
1 Dunlin south
1 Stock dove over
2 Whitethroat
Yellowhammer photo: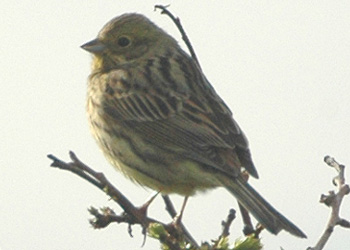 Julian and Andy did Middle Hope mid morning and had 6 Redstarts and a female Pied Fly, plus Yellow Wagtail and Tree Pipit.
20 th april Sand Point
9mph northerly wind, partially cloudy with good visibility
1 Grasshopper warbler reeling in bushes north east of the trig point
6 Wheatear: 2 nr trig point and 4 on beach
1+ Whimbrel heard calling from the bay
2 Tree Pipit lingering
1 Swallow over
1 House Martin North
1 Redpoll North

late news from yesterday:
Heard that a Pied Flycatcher spent most of the day along the track to the house.
1 Short Eared Owl hunting over the marsh
Short Eared Owl photo: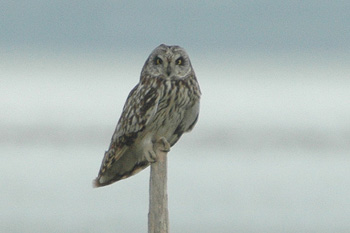 20 th april Woodspring bay
Between Channel View Farm and the mouth of the Yeo produced:
SEO close views (20m)
5 Little egret, 4 Whimbrel, sparrowhawk, blackcap, skylark and 3 hares.
Had a Short Eared Owl over fields this evening (7:15PM) between woodspring priory and the caravan park adjacent to sand bay. Also saw a large raptor being being mobbed by a crow just south of woodspring priory but when i got the scope from the car it was no longer visible. On jizz, it could have been a buzzard.
In Sand Bay:
11 Whimbrel
4 Ringed Plover
1 Dunlin at high tide
21 st april Sand Point
7mph north easterly wind, cloudy day with mist down to 1 mile visibility

2 Wheatear: 1 beach, 1 trig point
1 Redstart: male nr trig
1 Yellow Wagtail north
6 Redpoll west
2 Tree Pipit over
1 Jay along track between car park and trig
1-2 Bullfinch behind toilet block
1 Grasshopper Warbler half way between trig & swallow cliff
1 Grey Wagtail nr the point
1 Sand Martin east
5 Swallow
several Whimbrel in bay
1 Chiffchaff nr the point showing down to a "few inches".
Photo: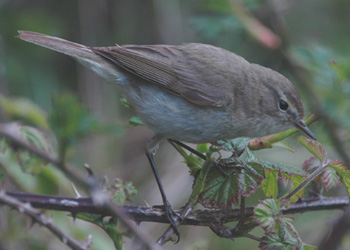 21 st april Sand Point
100 cloud cover, 2 mile visibility, light 12mph south easterly winds.
1 Pied Flycatcher: flighty bird in trees between trig and wall
2 Tree Sparrows east over trig
3 Redpoll flew up from trees at top of track leading up to trig
4 Grasshopper Warbler: 1 toilet block, 1 200yds east of trig, 1 nr point, 1 on slope to south of trig
45 Swallow through moving mainly north and east
6 Sand Martin through
5 House Martin
8 Dunlin west off the point
1 Canada Goose feeding on shoreline in bay
1 Whimbrel in bay (most seem to have moved on)
2 Wheatear: both males nr trig
5 Tree Pipits east
This evening in a brief search in sand bay at high tide:
7 Whimbrel
7 Dunlin
5 Swallow lingering
3 Wheatear on beach
23 rd april Sand Point
Rain and a light north easterly wind.
65 House Martin east
35 Swallow east
2 Sand Martin east
1 Common Sandpiper on rocks nr point
2 Wheatear in sand bay
14 Whimbrel in bay
The tame chiffchaff again nr the point. I was easily able to get with 8ft of the bird this morning.
5 Whitethroat (1 sand bay)
Flock of 4 Ringed Plover and 5 Dunlin over the point

(1 Grasshopper Warbler reeling in field on the corner of hutton moor lane at first light this morning, also 3 Whitethroat at the old tip)
This evening at Sand bay:
2 Swifts hawking high over car park with 25 House Martin then drifted off south east.
1 Short Eared Owl in marsh
14 Whimbrel
24 th april birnbeck
1 Purple Sandpiper on rocks at high tide
4 Swift over
many hirundines coming in/off the sea from the south west.
24 th april Sand Point
cloudy day with a fairly strong north easterly wind.
many hirudines through. At least a hundred house martins and the same for Swallow passage. A lot of them
were coming in/off the sea and working their way east along the point or coming in from the bay and then
going east.
1 Sand Martin picked out amongst the hirundines although there was probably a lot more.
5 Swift through.
2 Lesser Whitethroat: 1 in bay and 1 not far west of toilet block
6 Wheatear: 1 on beach, 1 nr trig, 4 on rocks nr point. The ones on the point seemed to be resting.
1 Common Sandpiper on rocks nr point
19 Whimbrel in bay
4 Yellow Wagtail over
1 Tree Pipit flew up from trees nr trig
House Marin photo: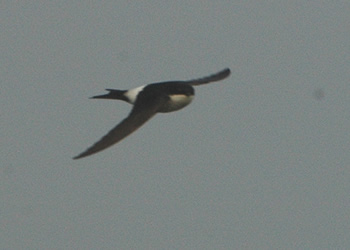 24 th April Sand Bay
Sand Bay this evening:
Wood Warbler singing in bushes next to Swallow Point caravan park entrance
Osprey in/off sea circled over the marsh at 18:58 then flew north east towards clevedon.
Osprey: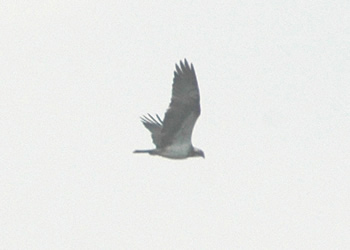 12 minutes later at 19:10 a female Marsh Harrier came in/off the sea and flew east
Marsh Harrier photo: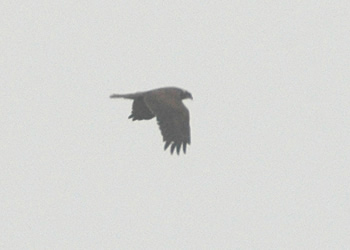 25 th April Sand Point
Overcast with a c.14mph east to north east wind and some light rain.
22 Wheatear: 20 on beach, 2 nr trig
200 Swallow. Most in the bay hawking over tideline in marsh
50 House Martin
15 Sand Martin
1 Grasshopper Warbler reeling 50yds west of toilet block
1 Yellow Wagtail over
1 Tree Pipit over
6 Whimbrel in bay
PM update:
33 Wheatear on the beach
flock of 21 Alba wagtails east over middle hope
1 Grasshopper Warbler reeling in the same place as this morning
3 Yellow Wagtail east over middle hope
many hirundines in bay plus many east over middle hope
1 Golden Plover circling over the bay calling with 6 smaller waders that looked like Knot.
Late news from this morning. A Cettis Warbler heard singing behind Swallow Point caravan park
26 th April Sand Point
cloudy morning with light rain in on a 14mph southerly wind
1 female Marsh Harrier flew in/off the sea from the west and continued flying east along the north side of the point
4 Wheatear 2 in bay, 1 nr trig, 1 swallow cliff
3 Tree Pipit over
24 Whimbrel in bay
many hirundines around. Too numerous to count
1 Sedge Warbler singing in bay
1 Lesser Whitethroat singing nr trig
1 Short Eared Owl nr trig
this evening in the rain:
1 male Pied Flycatcher in the north east corner of the car park.
2 Wheatear on beach
1 Sedge Warbler singing in bushes in the bay
notably less hirundines than the previous couple of days
27 th April Sand Point
clear night leaving a bright cloudless morning. c12mph south westerly wind.
1 Wheatear on beach
3 Tree Pipit over
1 Lesser Whitethroat singing in bushes south east of trig
2 Yellow Wagtail over
20 Swallow
2 House Martin
1 Buzzard around middle hope
A few leaf warblers around the top trees suggesting a few migratory birds.
very quiet this evening:
15 Whimbrel flew up from the south end of the bay and flew north west past the point and out to sea
28 th April Sand Point
15mph south westerly wind, mainly cloudy
A lunch time visit produced:
1 Garden Warbler singing at the top of the track to the trig
1 Grasshopper Warbler reeling 100yds north of car park
1 Sedge Warbler singing in bushes north of trig
20 Swallow around
5 House Martin
1 Sand Martin
1 Buzzard circling east of car park

In the bay:
14 Wheatear
3 Whinchat associating with the wheatear on the beach
Whinchat photo: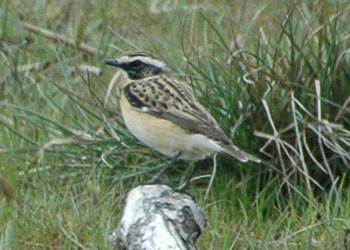 29 th April Sand Point
clear bright morning with a ligth southerly wind about 5mph
late news: A pair of Pintail seen on tideline in sand bay 2 weeks ago.

2 Wheatear 1 middle hope, 1 on beach
2 Lesser Whitethroat 1 nr trig, 1 east of house
50 Swallow
10 House Martin
1 Yellow Wagtail west
1 Jay
1 Stonechat
30 th April
I sea watched from 11:00 until 2:30, high tide being 11:45.
3 Arctic Skuas
c 40 Common Terns
3 Arctic Terns
3 summer plumage Black Terns
5 Scoter
2 probable Pomarine skuas; rather high and distant; steady flight, long dark tails entending behind them.
Per P.Gregory: I have to say that the weekend was rather good. Woodlark was a very welcome addition to my Weston list, as was Dotterel. The calls from the Dotterel were very interesting; we heard the rolling "purrr" and various "wittering" calls, which I had noted from migrants at Porthgwarra and Blakeney Point in the past.
19 Possible Dotterel flying east over Sand Point at 11:50 and calling.
1 Woodlark flying south west over middle hope at 8:45
2 Great Crested Grebes flying up channel around 11:30
1 male redstart at MOD base
Several Tree Pipits over
200+ swallows through
1 Sand Martin
2 Yellow Wagtail in ploughed field south of woodspring priory
2 Great Crested Grebes arrived at Severn Beach at about 12.10, 40 minutes after the Sand point sighting.
2 nd May Sand Point
2 birds flying up channel later identified as RB Mergs based on wing pattern
10 Gannet flying up channel
small number of Tree Pipits and Yellow Wagtails over
small passage of Swallows, House Martins and Sand Martins.
2-3 Garden Warblers
2 Lesser Whitethroat
A sea watch for 45mins on both sides of high tide produced very little.

A steady trickle of swallows west until 3pm, when some of them appeared to be heading back towards the point and then flying east.
1 Dunlin flying down channel
4 th May Sand Point
cloudy with a slight north westerly wind
1 Cuckoo flew from trig point area and seen to fly towards the nature reserve nr the MOD base
66 Swallows west
1 Yellow Wagtail north west over swallow cliff
3 Sedge Warblers: 1 behind toilet block, 1 bushes on sea wall in front of toilet block, 1 in rhyne behind car park
3 House Martins west
Yesterday evening a Swift was flying around the MOD base. Not much else to report
A dog walker mentioned seeing the Short Eared Owl on Monday
PM:
1 Wood warbler singing along the track to the house.
Whilst trying to photograph the wood warbler, a male Golden Oriole flew down the track and into the trees in the north east corner of the car park. I spent 15mins trying to tape lure the bird but could not track it down again.
4 Skuas flew close inshore up channel. 3 were all dark and 1 had a pale belly. On discussions with Paul G he suggested that they were all Arctic Skuas, 3 dark phase and 1 light phase.
7 Swift north
50 Swallow north
5 th May Sand Point
Very little moving this morning. light northerly wind 8mph.
2 Swallows through
1 Bullfinch calling nr toilet block
1 Whimbrel heard in bay
half an hour sea watch this evening produced just 3 distant kittiwakes.
No noticeable diurnal passage this evening. The surface pressure charts for the next 2 days don't seem favourable for any sizeable passerine passage.
7 th May Sand Point
Winds swung from westerly to northerly bias inducing a small hirundine passage:

55 Swallows through
8 House Martins through
Several gulls in the channel including at least 3 Great Black Backs
Good conditions for migrants starting again from tomorrow.
8 th May Sand Point
a light 10mph westerly wind. mainly bright day.
40 Swallow through
1 House Martin north
2 Swift north
1 Tree Pipit north-west over the trig calling
a few finches in/off the sea: 2 single chaffinches, a group of 3 goldfinch with 1 greenfinch.
2 Peregrines 1 adult, 1 imm. the imm bird was seen with a male Blackbird catch.
1 Lesser Whitethroat singing in the top trees nr trig.
Evening sea watch non productive.
59 Dunlin in sand bay giving extremely good views
1 Ringed Plover
10 Swift through
1 House Martin through
20 Swallow through
Dunlin photo: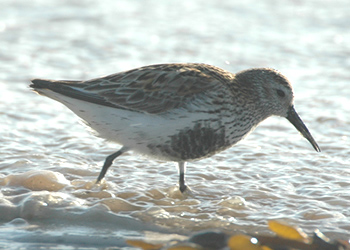 9 th May Sand Point and Weston
Had a call at 8:30 about a Red Kite heading north past Burnham (thanks Andy) being mobbed by gulls. Spent 35mins looking for it but had no luck. Had a call from Paul C around 9:40 about a Kite circling over weston at the time of the call. Spent some time looking for this but could not find it either.
1 dark phase Arctic Skua heading up channel at 9:05
100 Swallow through
14 House Martin through
7 Swift through
2 Lesser Whitethroat
N.B.
The Kite circling over Weston was reported to have been a possible/probable Black Kite and could have been a different bird to the Burnham one.
Evening update:
1 Spotted Flycatcher flycatching briefly in the tree tops in the NE corner of the car park and then flew south east
30 Swift through
20 House Martin through
20 Swallow through
2 Whimbrel in bay
flock of Dunlin in the bay about the same number as yesterday
10 th May Sand Point
Another Spotted Flycatcher this morning. This one was on top trees nr trig
1 female Wheatear nr trig
2 Tree Pipit. 1 over trig, 1 over priory
1 Yellow Wag over priory
4 Whimbrel river Banwell
10 Swift through
20 House Martin through
30 Swallow through
100 Dunlin sand bay
20 Ringed Plover sand bay
Another fall of birds this evening due to the current anticyclone:
4+ Spotted Flycatchers in and around the garden of the house viewable from the car park at 7:15pm
4 Whinchat in the bay at 7pm
5 Wheatear in the bay. All still present at 9pm but the Whinchat had moved on
45 House Martin through
40 Swift through
30 Swallow through
4 Black Headed Gulls past the point. Not an easy bird to record at this time of year.
11 th May Golden Oriole
Had a female type Golden Oriole this morning at 8:08. It flew down the track and into cover. Was in the same place as the male last week.
Tried to view the bird from the car park with no luck. Saw another birder in the car park and mentioned it to him. We both went back to the NE corner of the car park and attempted to tape lure the bird. It then flew from behind us, and on to the trees on the north edge of the car park. It was there for only a second or two and then flew. I spent another 15mins after that but did not see the bird. It could still be in the area. Tried at 11:30 with no luck. Will try again this evening.
11 th May Sand Point
1 fem Golden Oriole in trees north edge of car park
3 Spotted Flycatcher. 2 north end of Nature Reserve, 1 NE corner of car park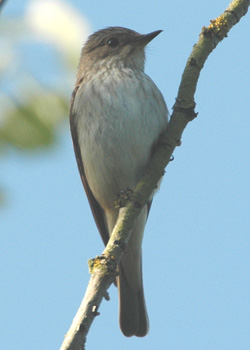 2 Cuckoo. both in gorse west of MOD base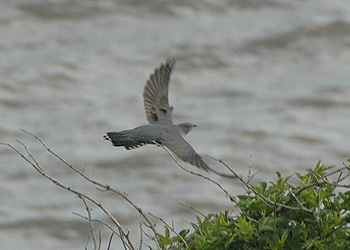 2 Yellow Wagtail. 1 over, 1 on Banwell Est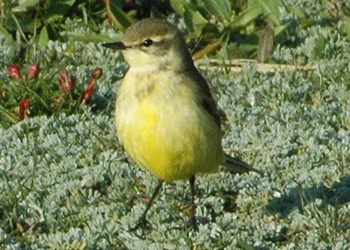 1 Pos Marsh Harrier flying south east over R.Banwell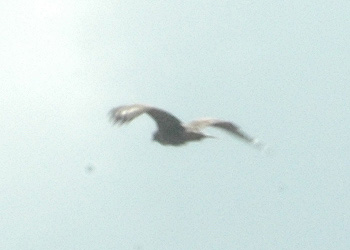 Several Swifts, Swallows, House Martins through
1 Black Headed Gull flying up channel
2 Whimbrel middle hope on rocks
3 Wheatear. 2 middle hope, 1 nr trig
Heard that there was a sub adult Med Gull off Sand Point on Sunday
evening update:
1 Whinchat in bay
2 Wheatear. 1 in bay and 1 at MOD base
1+ Spotted Flycatcher along track to house
14 th May pumping station
Last thursday evening whilst on a run with Weston A C --- there were 35 of us. Towards the end of a nine miles off road country circuit near the Water Works on the River Axe, a hobby flew low overhead from right to left and disapeared almost before I knew what Id seen. I was thilled with this as it was my first sighting.
15 th May Sand Point
From mid morning to late morning:
12-13 Arctic Terns flying up channel quite close in.
1 fem Redstart top trees nr trig
2 Sedge Warbler. 1 top trees, 1 top bushes above track to house
3+ Spotted Flycatchers behind house flycatching
1 Tree Pipit top trees nr trig
2 small flocks of waders moving up channel. 1 was flock of about 12 Dunlin the other was about the same size flock but very distant
17 th May Sand Point
Quiet this morning:
A trickle through of House Martins and Swallows
1 Cuckoo at the NR
Evening update:
1 Sedge Warbler singing in reeds in the bay
3+ Spotted Flycatcher around the house
18 th May Sand Point
Evening update:
1 Sedge Warbler singing in reeds in the bay
3+ Spotted Flycatcher around the house
Sand Point Mon 23 rd May
Evening visit:
1 female Wheatear in marsh
4 Whimbrel in marsh
1 Stock Dove showing down to 20ft on edge of marsh.
15 Dunlin in bay
Sand Point 24 th May
1 Reed Warbler in sub song at the NR
3 Swift west along cliffs at middle hope
30 Hirundines arond the Banwell Est mostly House Martins
This evening:
A sea watch between 6:30PM and 7:00PM:
3 Skuas - 1 large skua about the size and shape of a Great Skua but appeared to have no white wing flashes, 1 Arctic Skua and one unidentified skua.
1 Fulmar
Sand Point 25 th May
1 Yellow Wagtail flew up from the bay and then east over middle hope
6 Swift south
9 House Martin west
11 Swallow west
Evening:
1 Reed Warbler singing in rhynes nr Holm Cottage
2 Sedge Warbler in bay. 1 had a metal ring
8 Swift through
10 Swallow through
10 House Martin through
Sand Point 26 th May
1 Cuckoo on fence posts above house
1 Reed Warbler singing in rhyne nr car park
1 Yellow Wagtail west
1 Tree Pipit west (flying with the yellow wagtail)
5 Swallow through
3 House Martin through
Kestrel photo: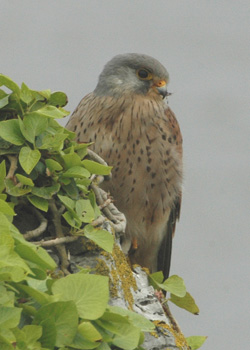 Sand Point 27 th May
3 Yellow Wagtail over
1 Sand Martin north
12 Swift through
15 Swallow through
5 House Martin through
Sand Point 28 th May
3 Turnstone flying together down River at mid morning.
Sand Point 29 th May
1 Common Buzzard flew towards the point, gained height and then flew south.
1 Cuckoo flew west over middle hope
23 Swift 1 nr trig and a flock of 22 hawking over the Banwell Est.
2-3 Swallows around and the same numbers of House Martins.
Sand Point 30 th May
1 Serin. Bird flew up from inside the MOD base compound calling and circling around before flying off south towards the priory at 7:44. By midday the bird was still not relocated.
2 Mistle Thrush briefly at the NR and then flew off towards the priory.
4 Swift through
1-2 Swallow through
2 Little Egrets in Woodspring bay.
1 juv Grey Heron nr River Banwell
Sand Point 31 st May
2 immature Mute Swans flying down channel
1 House Martin north-east
Struggling for any interesting sightings:
Last night the 2 Mute Swans were again around. This time they flew up from the River Banwell area and flew towards Clevedon.
1 Little Egret in Woodspring bay.
This morning the only record of note was 2 Swallows on the wires bordering the MOD base that could have been migrants.
Sand Point 3 rd June
A flock of 12 Canada Geese in the bay this morning and a few Swifts noted on a brief sea watch (via Paul G)
2 House Martins through
Yesterday a Red Kite over Worle Hill around lunch time, 10 minutes later seen by another birder nearer Weston when it gained height and drifted off.
Weston Wood 5 th June
3 p.m in the rain
1 G.S Woodpecker, 2 Chiffchaff, 1 Whitethroat and heard a Nuthatch calling.
Old Tip 5 th June
male Stonechat around the dissused driving range
many House Martins hawking in the rain plus several Swift.
An odd call coming from one of the banks nr the driving range turned out to be some sort of Budgerigar. It was blue with a white head.
Stock Dove over. It seems to be commuting between the old tip and the nest site somewhere near the airfield.
Several Whitethroat singing
Sand Point 29 th May and kite
P.Gregory: Sea watched at Sand Point from 8:00-8:30ish and had c30 Manx, 3 Kittiwakes, a Fulmar and a distant tern, probably Sandwich.
Also, the Kite last Thursday came in low from the NE over Pleshy Close and Balmoral Way, right over the house, and drifted low down the hill across Baytree playing fields and gained height just after then, disappearing up into the clouds. A Weston tick for me and a lifer for Andy. It appeared to be a first summer with newly growing inner primaries....could it be the Gordano valley bird from early May?
Weston STW 6 th June
2 Ruddy Duck on UV pools
15 Black Tailed Godwit roosting on UV pools
St Georges 6 th June
The bird was seen during the evening (7th per G. Pudney). No sign in brief search this morning. A Hobby low through to the east was a good sighting.
Sand Point 7 th June
In a brief search from 8:00 - 8:30:
1 Yellow Wagtail west
29 Canada Geese flew east from the bay
1 Butterfly sp that looks like some sort of fritillary. It was on the slope south of the trig. Will post the i.d. later unless anyone else can help. Photo below: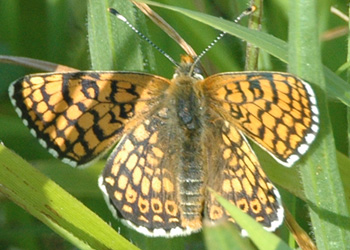 A good colleague of mine has informed me that the butterfly is a Glanville Fritillary.
Woodchat Sat 11th June
Woodchat Shrike at Uphill this afternoon until 5PM at least on the bank of the river axe 150yds west of the boat yard.
Bird still present this morning (12th)
Still present this evening up until 7:35 at least. Also a Cuckoo over and a male Bullfinch calling in the car park
Bird still present this morning (Mon 13th) flycatching bees and then removing the sting and venom as Bee-eaters do. Showing well from its favourite post, the tall bush on the bank near the footpath.
Had a look for the bird briefly this morning but there was no sign by eight thirty. It was either waiting for the sun to come out or has left. Of interest there was an adult female Woodchat of badius race in Finland on the 26th May.
Sand Point 12th June
In a brief search this morning:
1 Sand Martin through
2 Mute Swan west over bay
2 Ringed Plover
Weston 18th June
1 Lesser Whitethroat singing on slope below the trig. Not recorded for some time in this area so could be a migrant.
5 Swift through
1 Siskin over Walborough NR
Sand Point 19th June
1 Turtle Dove on wires by Holm cottage at 06:50. Unfortunately only had my camcorder so only a video still. See below
A family party of 4 Lesser Whitethroats in trees nr trig.
1 Mistle Thrush flying west over swallow cliffs.
1 Turtle Dove on wires by Holm cottage at 06:50. Unfortunately only had my camcorder so only a video still. See below
A family party of 4 Lesser Whitethroats in trees nr trig.
1 Mistle Thrush flying west over swallow cliffs.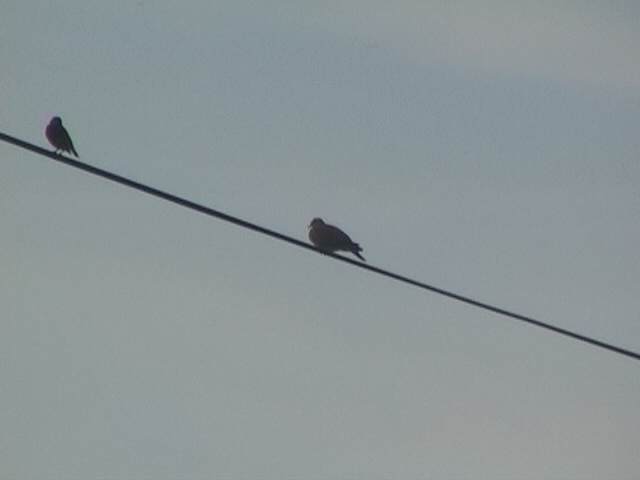 Turtle Dove St Georges
Here are 2 images of the Turtle Dove at St Georges taken by Geoff Pudney. Thanks Geoff: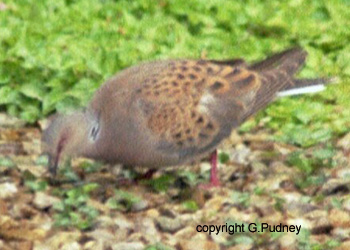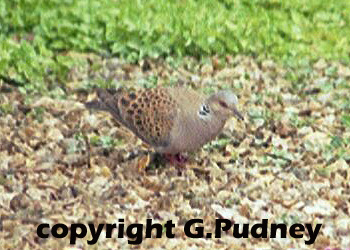 Sand Point 20th June
3+ Lesser Whitethroats around nr trig plus a male in song on slope to south of trig
1 Speckled Wood at bottom of steps nr toilet block.
5 Crossbill in the woods above Loxton this afternoon.
Old Tip 5th July
female Wheatear on the old tip during the evening (5th). First of the returning migrants no doubt.
3 Stonechats on the airfield (2 juvs)
Weston 7th July
Lesser Whitethroat singing along the railway track just north of Hutton Moor Leisure Centre.
Weston STW 11th July
Yellow Wagtail flew west from the treatment works over the river axe calling. Nothing else of note.
Sand Point 11th July
1 Sandwich Tern amongst Black Headed Gulls on tideline in the bay briefly and then flew over the point and up the channel at 8:50PM
30 summer plum Dunlin
100+ Curlew
7 juvenile Grey Heron over
2+ Red Admirals on top of point
1 Comma on north side of railway bridge nr hutton moor

Sand Point 12th July
This evening:
1 Greenshank in the bay
2 Whimbrel flying down channel
2+ Painted Lady
1 Red Admiral
1 Skipper sp
This Morning:
1 Lesser Whitethroat
1 adult and 1 juv Stonechat
Sand Point 13th July
No birds of note.
Butterflies seen:
Comma
Red Admiral
Speckled Wood
Skipper (Small)?
Small Tortoiseshell
Crossbills 15th July
Just had a call to say that 2 Crossbills have flown west over worle (mid morning 15th July).
Weston 16th July
1+ Crossbill heard calling in the wood above Loxton at 5:30 this morning.
Checked Clarence Park yesterday and today after yesterdays sighting but no Crossbills yet. They have been recorded here in the past.
Sand Bay 17th July
1 Sanderling and 7 Dunlin at high tide in Sand Bay.
Sand Point 23rd July
Anticyclonic conditions today.
mid morning:
3 Turnstone roosting on rocks at the point briefly.
1 Green Woodpecker at the trig and then seen on rocks at the point
2 Whimbrel calling from the bay
16 Swallow through
juv Stonechat still on north side of swallow cliff

27th July
Axe Est:
2 Dunlin in summer plum at high tide
1 Sand Martin amongst hirundines
Weston STW:
1 Common Sandpiper
28th July
Axe Est:
6 Turnstone roosting on black rock at high tide (5 in summer plum)
1 Dunlin
1 Ringed Plover
Sand Point 31st July
40 Swallow west
30 House Martin west
3 Sand Martin west
3 Swift west
3 Whimbrel along north shoreline
1 Lesser Whitethroat in bushes near trig
2 Common Hawkers along track to house
At high tide this evening:
11 Dunlin
6 Ringed Plover
possible Juv Med Gull amongst Black Headed Gulls at south end of bay
Weston STW:
2 Ruddy Duck
1 Common Sandpiper
Sand Point 9th August
Mini fall of warblers this morning:
2 Garden Warblers
10 Blackcap
10 Whitethroat
5 Willow Warbler
10 Chiffchaff
5 Lesser Whitethroat

Also:
2 Tree Pipits south, 1 Great Spotted Woodpecker, 16 Swallow west

Insects:
2 Speckled Wood, 1 Common Blue, Several Gatekeepers, Meadow Brown,Small White

Sand Point 10th August
Another day of good migrating conditions. The next 2 days also look equally as good....
A big flock in hirundines in the bay consisting of 40 House Martin, 30 Swallow and 5 Sand Martin
Good numbers of warblers again mainly around the elderberry bushes near the car park:
1+ Garden Warbler, 15 Blackcap, 10 Whitethroat, 2 Willow Warbler, 10 Chiffchaff, 3 Lesser Whitethroat
Great Spotted Woodpecker again this morning but heard only.
1 Dunlin flying east over the coast road calling
Sand Point 11th August
Anticyclone still producing movement:
2 large flocks of hirundines. The first consisted of 50 House Martins and a few Swallows. The second consisted of 120 House Martins, a few Swallows and a Sand Martin
1 Sedge Warbler in the marsh
3 Reed Warblers in bushes around the car park
5 Lesser Whitethroat
1 Tree Pipit over
Great Spotted Woodpecker heard again
10 Willow Warbler
10 Chiffchaff
10 Blackcap
15 Whitethroat
No sign of any Garden Warblers
1 Dunlin over the point
Insects:
1 Hummingbird Hawk Moth along the coast road by holm cottage
Many Common Blues on the wing
Many Wall Browns on the wing
1 Speckled Wood
1 Red Admiral
Also Gatekeepers, Small Whites, Meadow Browns,

Sand Point 13th August
1 Nuthatch flew towards Swallow cliff and then seen 15 minutes later flying back towards the diaganol track.
A flock 30 hirundines, mostly House Martins through
1 Garden Warbler in elderberry bush by toilet block.
Sand Point 20th August
1 Wheatear on swallow cliff
2 Yellow Wagtails south west over middle hope
1 Whimbrel west over
1 Tree Pipit in from the south and then east
3 Lesser Whitethroat
5 Whitethroat
1 Willow Warbler
3 Chiffchaff

Also, 1 Brown Argus nr trig, 1 Red Admiral swallow cliff, 1 Small Heath on slope above house, 1 Tortoiseshell on beach.
Sand Point 21st August
6 Yellow Wagtail - 4 West, 2 in marsh
1 Knot
1 Sanderling
1 Wheatear (juv) on swallow cliff
1 Whinchat (juv) middle hope above car park
1 Redpoll over trig (heard only)
1 Common Sandpiper on edge of marsh nr point
1 Whimbrel in bay
1 Sand Martin west
20 Swallow west
5 House Martin west
Weston STW 22nd August
1 Common Sandpiper R. Axe
3 Little Egret
2 Ruddy Duck (now regular at this site)
1 Yellow Wagtail heard from R. Axe
3 Swift hawking between NR pools and UV pools
3 Snipe in flight
Sand Bay 22nd August
This evenings birds:
3 Knot (1 in full summer plumage)
4 Turnstone
182 Dunlin
29 Ringed Plover
Weston STW 23rd August
1 fem type Marsh Harrier being mobbed by 2 corvids at 8:26 this morning seen in the distance over the Axe Est. The bird then flew off north
1 Yellow Wagtail south
1 Sand Martin over UV pools
2 Ruddy Duck. 2 Drakes present on the western pool. Drake and Duck yesterday, so there could be 3 around.
1 Greenshank heard

23rd August
3 Knot in winter plumage on the Axe Est this morning.
128 Dunlin and 7 Ringed Plover in Sand Bay on the receding tide.
1 Common Tern flying up and down the River Axe nr Brean Cross Sluice mid afternoon.

25th August
Struggling to find much of interest
1 Turnstone Axe Est
1 Swift Weston STW
Swift still present this morning (26th)
Weston STW 27th August
1 Hobby in field nr entrance then flew east
1 Common Sandpiper r.axe
1 Green Sandpiper r.axe
11 Black tailed godwit r.axe
3 Yellow Wagtail r.axe
3 ruddy duck on u.v. pools 2 drake, 1 duck
8 wheatear and a dartford warbler at crook peak this afternoon
Sand Point 28th August
1 Hobby hawking over the bay until 11:10 when flew inland
3 Wheatear 2 on point 1 along bottom track
1 Whinchat in bay
1 Greenshank in bay
70 Swallow west
1 GS woodpecker south
1 Knot amongst 80 small waders
3 Little Egret in bay
6 Raven over
3 Yellow Wagtail west
1 Clouded Yellow in marsh.
Hobby photo: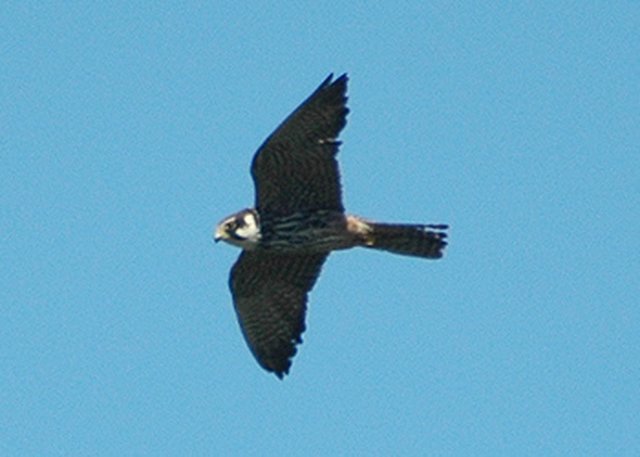 Sand Point 29th August
1 Wheatear on swallow cliff
1 Common Sandpiper on the point
1 Greenshank in the bay
50 Swallow west
12 House Martin west
10 Chiffchaff
5 Whitethroat
2 Lesser Whitethroat
Axe Est 29th August
1 Spotted Redshank
140 Redshank
1 Yellow Wagtail
6 Black Tailed Godwit
This evening:
2 Green Sandpipers on r.axe bank pools
133 Pied Wagtails north (informed that a large number roost at tescos in weston)
1 common sandpiper
Sand Point 30th August
Migration cancelled due to fog this morning:
1 Dartford Warbler between trig and mound
2 Grey Wagtail on shoreline at the point
River Axe and Weston STW late morning:
River Axe:
1 juv Curlew Sandpiper
1 Turnstone
233 Redshank
6 Teal
Weston STW:
1 Wigeon
3 Shoveler
4 Ruddy Duck
Sand Point 31st August
2 Pied Flycatchers in the car park
1 Wheatear nr trig
4 Tree Pipit over
1 Yellow Wagtail south
trickle of Swallows west
Pied Flycatcher photo: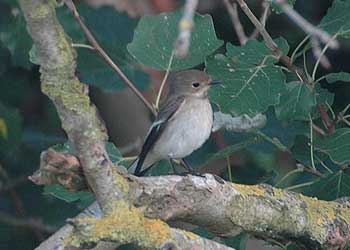 Garganey on UV pools 11:10 at least
Video still of Garganey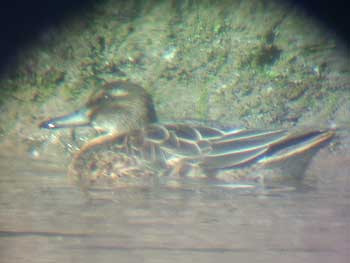 Sand Point 2nd September
Small fall of migrants:
3 Sedge Warblers in marsh
3 Yellow Wagtail
30 Chiffchaff
4 Spotted Flycatcher
1 Coal Tit
2 Goldcrest
2 Tree Pipit
5 Wheatear
1 Lesser Whitethroat
1 Hobby briefly over house and then east over middle hope
15 Whitethroat
5 Willow Warbler
1 Dartford Warbler on the north slope nr the mound.
Evening update:
around the house:
1 Pied Flycatcher
2 Spotted Flycatcher
2 Lesser Whitethroat

Also:
2 Whimbrel in bay
1 Whinchat at point
2 Wheatear swallow cliff
6 Stonechat swallow cliff
Sand Point 3rd September
1 juv Dartford Warbler associating with 6 Stonechats on the north side of swallow cliff.
4 Tree Pipits
2 Yellow Wagtails
1 common sandpiper flew around the point
140 Swallow east
50 House Martin west
1 Whinchat on north side of swallow cliff
Record shots of Dartford Warbler: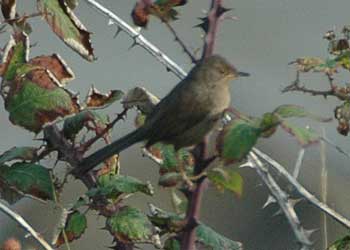 Sand Point 4th September
1 Little Stint
1 Curlew Sandpiper
12 Dunlin
22 Ringed Plover
1 tree Pipit
4 Grey Wagtails
8 Wheatear
juv Dartford (seen by Julian and Andy, we couldn't find it)
5 Stonechat
Garden Warbler, Lesser Wh, 2 Whitethroat, 3 Ravens, Common Sandpiper, steady slow passage of Swallows and House Martins. 2 Little Egrets. 1 Gt Spot.
Sand Point 5th September
50 Swallow on the wires on the coast road
15 Dunlin
12 Ringed Plover
1 Wheatear swallow cliff
1 Common Sandpiper
Weston STW/Axe 5th September
Axe est:
35 Knot
2 Black tailed godwit
100+ Redshank
10 Dunlin
Weston STW:
2 Wheatear in ploughed fields nr uv pools
3 Wigeon on wildfowl lagoons
7 Shoveler on uv pools
Barn Owl on the back road of the sewage works this evening sat on a post just inside a gateway approx 100yds south of the uv pools.
Greenshank and common sandpiper on the river axe
At sand bay high tide this evening:
2 Sanderling
4 Dunlin
5 Ringed Plover
Sand Point 6th September
16 Wheatear most were at the point
1 Dartford Warbler in bushes on north side of the trig
3-4 Common Sandpiper
15 Chiffchaff
5 Blackcap
5 Whitethroat
1 Tree Pipit
1 Willow Warbler
1 Whimbrel heard
Trickle through of Swallows and House Martins
White-winged Black Tern 7th September
White-winged Black Tern on the Axe Est this lunch time and later at Weston Sewage Works. Also a Marsh Harrier through.

Account of White-winged Black Tern events and photos:
http://www.birdlist.co.uk/wwblacktern.htm
Marsh Harrier

Weston STW/Axe Est 8th Septembr
1 White-winged Black Tern still present on the u.v. pools this morning with a Black Tern
On the Axe Est:
1 Curlew Sandpiper
35 Knot
25 Dunlin
200 Redshank
100 Oystercatcher
1 White-winged Black Tern still present this evening in the fading light with a Black Tern
1 Greenshank, 1 Curlew Sandpiper, 4 Common Sandpiper on the river Axe.
Weston STW/Axe Est 9th September
1 White-winged Black Tern still present with 1 Black Tern
On the Axe Est:
35 Knot
12 Black Tailed Godwit
1 Spotted Redshank
20 Dunlin
At lunchtime 2 Curlew Sandpipers present and numbers of Knot seemed more like 50.
2nd winter med gull on the uv pools this evening
white-winged black tern still present
black tern still present
3 Curlew sandpipers at the axe est this evening
Wryneck Sand Point 10th September
Wryneck on sand point this morning found by andy and paul.
also seen in weston this morning:
1 White-winged black tern at the sewage works with 1 black tern
1 kingfisher at the u.v. pools
1 golden plover circling the axe est before heading north
On sand point/bay this morning:
2 Dartford warbler, 1 Whinchat, 1 Whimbrel, 1 garden warbler, 1 lesser whitethroat
In the bay: 1 sanderling, 3 Turnstone, 7 knot, 20 ringed plover, 50 dunlin

Sand Point 11th September
Wryneck still present this morning showing on and off in the area above the stile.
3 Siskins flying round the trig area
1 Whinchat above the stile
2 Wheatear 1 nr stile and 1 middle hope
In the bay:
3 Bar Tailed Godwit
2 Black Tailed Godwit
4 Curlew Sandpiper
33 Knot
1 Sanderling
240 Dunlin
1 Turnstone
10 Ringed Plover
Wryneck photo:

Sand Point 11th September
1 Great Skua flew down channel at 3:30PM and then directly on towards Steep Holm. Not much else moving other than 2 wigeon, 2 whimbrel and a few hirundines.
A flock of c.30 Siskin flew over and appeared to land in bushes on the south side.
Both Dartford Warblers still present
Great Skua photo: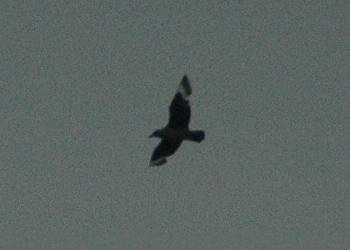 Weston STW 12th September
1 White-winged black tern still present this evening although with ideal migrating conditions tonight it may well be its last day today. The black tern was not with it. I did have a black tern flying high south at dusk which may have been a different bird.
1 Greenshank on river
3 Spotted Redshank flushed off the river by shooters. They then flew on to the wildfowl lagoons
4 Common Sandpiper on river
1 Curlew Sandpiper on river
Sand Point 12th September
1 Wryneck still present hopping around the track parallel to the fence.
1+ Dartford Warbler heard calling from the stile area
1 Spotted Flycatcher above the house
12 Wheatear 9 on middle hope, 3 towards the point
5 Siskin
1 Willow Warbler
10 Chiffchaff
1 Lesser Whitethroat
Several swallows trickling through
At lunch time:
3 Bar Tailed Godwit
30 Knot
1 Curlew Sandpiper
2 Sanderling
1 Turnstone
100 Dunlin
15 Ringed Plover
1 Pied Flycatcher in trees between trig and middle hope wall
1 Sand Martin in/off sea with a few swallows
Sand Point 13th September
No sign of Wryneck this morning.
Present this morning:
1+ Dartford Warbler
3 Tree Pipit 2 on point giving good views and 1 over middle hope
3 Wheatear
1 Turnstone on point
10 Chiffchaff
1 Lesser Whitethroat

Weston STW:
No sign of white-winged black tern this morning
Present this morning:
1 Ruff on river with redshank
1 Greenshank on river
1 Spotted Redshank
report of 1 Knot over
loads of swallows moving through coming off the back of brean down and south over the STW
Tree Pipit photo: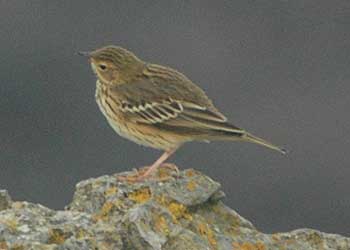 Sand Bay at high tide:
1-3 Bar Tailed Godwit
61 Dunlin
19 Knot
10 Ringed Plover
Sea watch 15th September
from 5:30PM til 7:30PM:
1 Manx Shearwater south past birnbeck pier at 17:40hrs
1 Skua sp west heading towards flat holm at 18:05
1 Manx shearwater sat on the sea off sand point at 18:52
Not much else other than a few hirundines in/off the sea, a couple of cormorants west towards steep holm.
Sea watch 16th September
between 07:30 and 08:00
2 common scoter (drake and duck) flew up channel and then came back down at 07:40
3 Swan sp probably mutes went up channel at 07:45
sand point:
no other sea birds during brief visits at lunch time and late afternoon.
about 160 swallows per hour passing through going east
7 Siskin over
2 Wheatear on the beach
flock of 21 knot through south
in the bay: 1 Turnstone, 2 sanderling, 1 curlew sandpiper amongst the dunlin and ringed plover
Sand Point 17th September
1 dartford warbler
5 Siskin over
3 Sand Martin over
10 chiffchaff
2 Blackcap
1 lesser whitethroat
4 wheatear
60 knot up river
2 common whitethroat
high tide this evening:
4 Grey plover
1 curlew sandpiper (juv) flew over sand point on incoming tide
2 sanderling (juvs)
150 dunlin
10 ringed plover
Sand Point 18th September
1 nuthatch heard calling on slope south of trig
1 yellow wagtail over
1 spotted flycatcher at top of steps above house
20 knot over
1 leucistic magpie (will upload the photo tomorrow)
2 reed buntings
20 meadow pipits
flock of 56 house martin over
trickle through of swallows
noticeable hirundine movement this evening over weston
Sand Point 19-20th September
passage on monday: 150+ meadow pipits, 1 tree pipit, 30+ house martin, 3 siskin
Dartford warbler still present near the stile half way along the south side.
No passage noted today other than 3 swallows east. Great spotted woodpecker still present
Forgot to mention that a Mistle Thrush present at sand point on monday morning. Possibly a migrant from northern europe??
Sand Point 21st September
migration on sand point:
1 skylark E
1 Siskin W
2 Reed Bunting E
4 Knot SE
5 Swallow E
5 Goldfinch E
15 Chaffinch E
15 Greenfinch E
100 Meadow Pipit E

Also recorded:
1 Coal tit nr toilet block
1 Turnstone in bay with dunlin
Weston STW 21st Sept.

Little Egret in the pools formed by the high tide near the uphill boatyard lagoon.
Small copper butterfly on cliff under walborough hill.
Also Great spotted woodpecker on top of telegraph poles by entrance to STW.
Sand Point 22nd September
starling 6W
linnet 47
wheatear 4 (greenland race)
Meadow Pipit 36
Chaffinch 3N, 2W
Skylark 1
Dunlin 2E
Goldfinch 17E
Greenfinch 28E
Reed Bunting 2
Coal Tit 3 together E & appeared to land nr the point
Redpoll 4W
Swallow 2W

Also recorded: 1 Weasel/Stoat (also seen yesterday), 1 Great spotted woodpecker

2 wheatear on middle hope this evening.
Sand Point 23rd September
A sligthly wet morning:
70 meadow pipits
4 Wheatear
2 Skylark
Weston STW 23rd September
250+ Swallows through east making the most of the strong tail wind.
1 Sand Martin
1 Green Sandpiper in wildfowl lagoons
10 Wigeon in wildfowl lagoons
7 Pochard on UV pools
2 Gadwall on UV pools
4 Wheatear on river axe bank
River Axe 24th September
Black T God 51
chiffchaff 7
Lesser Whitethroat 2
blackcap 4
siskin 19SE
redshank 350
mallard 180
teal 100
shelduck 190
swallow 340 SE
wigeon 13 wildfowl lagoons
sedge warbler 1
Meadow pipit 87SE
House martin 3SE
skylark 29S
sand martin 3S
Redpoll 1 heard
Pochard 5 UV pools
25th September
sand point:
meadow pipit 33 (11SW)
goldfinch 30W
wheatear 2
cormorant 10SW
skylark 10
swallow 10 through
yellow wagtail 1W
whitethroat 1 at NR
lesser whitethroat 1 at NR
chaffinch 5W
house martin 3S
alba wag 6S
greenshank 1 in bay
Uphill 1 marsh tit heard in bushes along the footpath nr the quarry

yeo est:
2 greenshank
1 pintail
1 knot
1 bar tailed godwit
8 wheatear
River Axe 26th September
1 Grey Plover at est mouth then flew up river
4 Knot
15 Swallow south
1 wheatear on sea defence
9 house martin south
5 pochard on uv pools
13 shoveler on uv pools
Knot photo: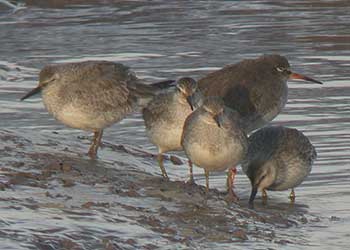 ]
27th September
Not much found today:

Tern sp flying down channel
25 skylark on middle hope
several swallows east
2 clouded yellow river banwell. also recorded: red admiral, small copper, small tortoiseshell, speckled wood, brown argus
3 wheatear on middle hope
4 blackcap at NR
2 chiffchaff at NR
20 skylark on middle hope
30 meadow pipit on middle hope
1 reed bunting at NR

butterflies recorded: red admiral, small copper
Weston STW 2nd October
Quiet today. Next 2-3 days look good for migration.
15 Pochard uv pools
2 Gadwall uv pools
16 Shoveler uv pools/wildfowl lagoons
17 Wigeon wildfowl lagoons
4 Snipe uv pools

5 Clouded Yellows in marsh at Banwell Est.
Sand Point 3rd October
2 sandpipers at banwell est nr mod pier. 1 common, 1 pos. spotted sandpiper. will try and get back to have a look later this morning.

photo of bird: www.birdlist.co.uk/images/bird.jpg
also:
5 wheatear (1 greenland race) on middle hope
2 redpoll heard
1 mistle thrush nr car park
3 chiffchaff
Relocated the common sandpiper on the waters edge in the banwell est. The other bird was not with it. Might be worth looking during this evenings high tide.

Also 1 Knot with the Redshank and 17 Wigeon in woodspring bay
2 Sandpipers seen this evening. One Common Sandpiper and one sandpiper with pale legs, identified as a Common Sandpiper. Couldn't say for sure if this was the bird seen this morning.
Also recorded this evening: 1 Kingfisher on the scrape, 1 Dartford Warbler heard at south end of NR, 1 Little Owl calling from Woodspring Priory direction.
Sand Point 4th october
1 snow bunting circled over middle hope calling then flew east. (mistakenly reported as Lap Bunt this morning).
jay 6
meadow pipit 63E, 16W, 5 grounded
5 wheatear
alba wag 9W, 7E
swallow 34S
starling 81E, 300 grounded, 60W
greenfinch 55SE
siskin 5E
song thrush 18
skylark 38E, 5 grounded
1 redwing on NR
chaffinch 14E
7 reed bunting
1 house martin south
2 mistle thrush
Sand Point 5th October
migration only lasted a short while and was then brought to a halt by the fog.
song thrush 14 (5E)
chaffinch 19 (7E)
wheatear 1
starling 27E
meadow pipit 59 (23E)
linnet 50
greenfinch 15E
goldfinch 10E
alba wagtail 6E
common sandpiper 1 banwell est.
swallow 13S
siskin 3E
redpoll 1E
house martin 3S
Sand Point 6th October
1 yellow-browed warbler at the NR calling regularly and seen occasionally from 8:15 to 9:15 at least. It is at the south end of the NR in the large clump.
1 Richards Pipit circling and calling on middle hope. Landed a couple of times but eventually drifted off west with c.100 meadow pipits.
also:
1 grey plover banwell est.
3 redwing
120 meadow pipit
15 siskin over
70 swallow east
5 snipe west
7 skylark east
1 wheatear middle hope
4 house martin east
10 song thrush
Red-tailed Hawk being flown at the NR
Photos are yellow-browed warbler, red-tailed hawk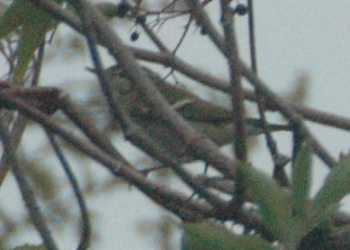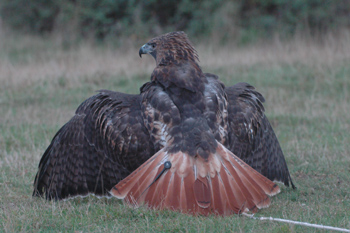 Arrived at 1:45 only to meet Richard Malkerick and someone else leaving having failed to locate either the Yellow-browed or the Richards. I managed to find the Y-b W in the middle clump and had pretty good views 2:10-2:20ish, then found the Richards at 2:50 on the southern slope only about 150 yds from the nature reserve fence. Of cautionary note, there was a small juvenile Skylark with no tail in with c15 Skylarks in the grass, which looked for all the world like a Woodlark when the flock went up! Apart from that, 3 Chiffchaffs, 2 Wheatears, c150 Meadow Pipits and lots of Blue, Great and L-t Tits.
Sand Point 7th October
both yellow-browed warbler and the richards pipit still present until early afernoon at least.
The yellow-browed warbler calling regularly but showing briefly. The bird was impossible to photograph today so no better photos.
The richards pipit still in the same area, frequenting the slope to the south of the approach road to the mod base. Better shots of this today. see below.
also:
alba wagtail 26W
meadow pipit 50
grey wagtail 2W
reed bunting 4
mistle thrush 1 at NR
chaffinch 60W
swallow 65W
house martin 4W
grey plover 1 on banwell est.
starling 20E 60W 100 grounded
10 song thrush
greenfinch 30W
siskin 6W
wheatear 3
Richards pipit photo: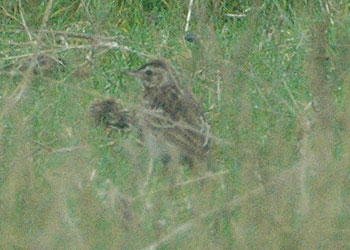 Sand Point 8th October
1 yellow-browed warbler at N.R. but elusive
chaffinch 10 west
alba wag 9 (2 west, 7 south)
linnet 35 (15 west)
greenfinch 105 (80 south, 25 west)
swallow 18 (8 south east, 1 west, 9 south)
siskin 25 (22 south, 3 west)
goldfinch 95 south
meadow pipit 30
reed bunting 2
redwing 2 east
song thrush 5
snipe 1 on middle hope flushed
house martin 1 south
hirundine 12 high south
skylark 15 (3 south)
redpoll 3 south
starling 50 (40 east)
little egret 11 woodspring bay
pochard 1 woodspring bay
gadwall 1 woodspring bay
common sandpiper 2 banwell est.
coal tit 1 in bushes north west side of trig
Sand Point 9th October
no sign of the yellow-browed warbler or the richards pipit this morning.
1 Willow Warbler at the NR (see photo below)
1 Dartford Warbler in gorse next to the next the north west corner of the MOD fence.
2 wheatear
3 Reed bunting
Greenfinch 13W
alba wag 40S
starling 140
siskin 5 (2W, 3S)
sand martin 1E
swallow 20S
woodpigeon 22W (in 1 flock)
grey plover 1 in sand bay
redpoll 1W
Willow warbler photo: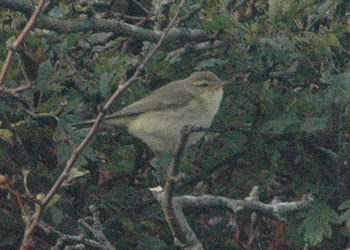 Andy and I did just Sand Point 7:40-9:05. Rather quiet. 1 Redpoll, 4 Swallows, a few siskin, 2 Wheatears, <40 Chaffinch, a few alba Wags, c10 Stonechats. Paul G
Sand Point 13th October
8mph north wind with 100% visibility, 80% high cloud cover
200 chaffinch over. the ones at the NR were heading north towards st thomas head, gaining height and then drifting off east inland.
1 northern wheatear on middle hope
3 chiffchaff
40 greenfinch over
2 redwing
3 song thrush
2 reed bunting
2 skylark high south east
5 goldcrest
100 starling
3 siskin over
1 robin by the clapper gate with a bizare alarm call. first heard on the weekend and again today. could be a continental migrant.
Roger Halsey had a Hen harrier over the saltmarsh and bay at the Axe on the 9th, Sunday, and there was a Snow Bunting on the end of Brean Down that day too.
Sand Point 14th October
1 yellowhammer calling from bushes above house
1 merlin high south
10 song thrush
500 starling over
550 chaffinch east (the chaffinches were coming mainly up from sand bay, east over middle, flying north over the NR and then on east)
12 siskin east
9 alba wagtail
1 wheatear on middle hope
1 pheasant (my first sighting here this year)
3 brambling with chaffinches
50 greenfinch east
Brean Down 16th October
from 10:00 - 13:00
1 snow bunting at the fort
1 dartford warbler at fiddlers point
6 mistle thrush SW
50 Siskin over
1 Redpoll over
3 skylark over
90 Wigeon in weston bay
several Red Admirals in/off the sea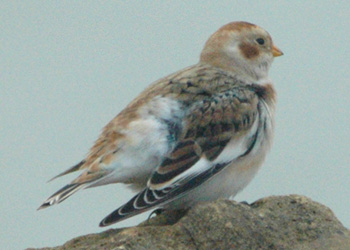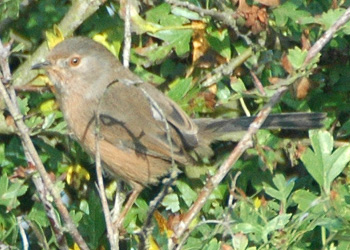 Per SOS website
An excellent morning's migration, with some quality birds too.
Between 08:00 and 12:00, most birds going ENE along the point :
Chaffinch 959
Brambling 59
Mipit 76
Ripit 4
Linnet 28
HAWFINCH 1
Skylark 34
WOODLARK 1 (someone else reported 2)
Redwing 185
Siskin 184
Snow Bunting 3
LAPLAND BUNTING 3 (someone else reported 4)
Goldfinch 28
Greenfinch 100
Swallow 7
Coal Tit 1
Merlin 1 male
Fieldfare 2
Starling 324
Song Thrush 4
Reed Bunting 13
Alba wag 30
Tree Sparrow 4
Dartford Warbler 1
Sand Point 17th October
Todays sightings were nowhere near as good as the last three days:
from 7:30 - 9:30
1 brent goose flew from the bay, around the point and up channel at 07:48
1 Brambling
2 redwing
25 wigeon down channel (about 250yds out)
60 starling west
4 redpoll east
20 woodpigeon west
10 siskin east
2 reed buntings
10 goldcrest.
Sand Point 18th October
Much better than yesterday:

a lot of the birds were going east and coming in from either the south from sand bay or from the west/north-west. it was active from 8:30-9:45 and then again from late morning till around 11:45

Siskin 427
chaffinch 2,150
brambling 60
hawfinch 2
starling 1300
fieldfare 1
ring ouzel 1 nr stile on south side
water pipit 2
skylark 3
song thrush 10+
redwing 3
dartford warbler 1
redpoll 7
ring ouzel video still: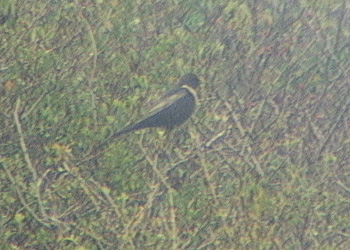 Sand Point 19th October
A change in conditions meant no repeat of yesterdays movements:
Most birds moving west today flying high towards steep holm.
greenfinch 20 W
Linnet 3 W
Siskin 3
Reed bunting 3
mipit 16 W
dartford warbler 1
chaffinch 70 W
chiffchaff 1
blackcap 1
mistle thrush 1 S
song thrush 1 5
yellowhammer 1 low E
blackbird 15 in bushes in front of house
redwing 1 (with the blackbirds)
Sand Point 20th October
It does seem that a south easterly wind is best for diurnal finch passage. this mornings 10mph SW wind produced similar movements to yesterday and moving in the same direction:
7:30-9:00
100 chaffinch west
40 greenfinch west
15 mipit west
4 siskin west
1 redpoll east
2 chiffchaff
5 goldcrest
Weston STW 21st October
lunchtime today:
30 Pochard UV
30 Shoveler UV
500+ starling flushed from fields on the somerset side
400+ lapwing flushed from fields on the somerset side
50 skylark flushed from fields on the somerset side
water rail heard at UV pools
3 ruddy duck
47 black tailed godwit roosting on UV pools
wigeon 30 wildfowl lagoons
A brief sea watch of Birnbeck late afternoon produced: 1 drake common scoter flying up channel at 16:58. also several cormorants flying towards steep holm
Sand Point 22nd October
1 female type merlin over middle hope towards trig
1 yellowhammer flew to the point and then SE
10 redpoll W
50 siskin W
chaffinch 85 W
starling 60 W
chiffchaff 3
blackcap 3
ring ouzel 1 female type in Sloe bushes nr style on North side
swallow 1 south past trig
dartford warbler 1 on north side north of trig
3 mistle thrush W late morning
1 brambling W with chaffinches
1 male black redstart nr wall briefly on north side north of trig
skylark 6 over
Sand Point 23rd October
all birds going west
4 redpoll
20 brambling
2,862 chaffinch
1 dartford warbler nr clapper gate
20 woodpigeon
b-zeeee call coming from one chaffinch flock. not been able to identify bird. has anyone got any ideas?
515 starling
16 skylark
5 redwing
8 meadow pipit
1 stock dove
3 reed bunting
27 greenfinch
1 merlin female type flew out to sea low NE
1 yellowhammer
1 mistle thrush
Also seen my another birder: 1 ring ouzel at the point and a barn owl at first light over the marsh
Uphill 24th October
70 chaffinch south
3 brambling south
3 redwing south
Picture below is of a redwing taken on saturday at sand point. From the look of the underparts I would say that the bird is of the scandinavian race.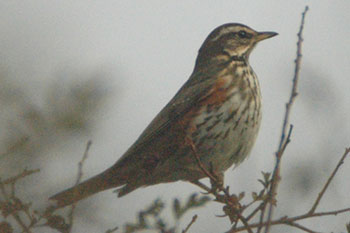 Sand Point 25th October
230 starling W
4 redwing W
80 chaffinch W
75 greenfinch W
1 alba wagtail
6 mipit W
1 1W northern wheatear nr trig
2 brambling W
1 mistle thrush nr trig a then flew W
1W northern wheatear: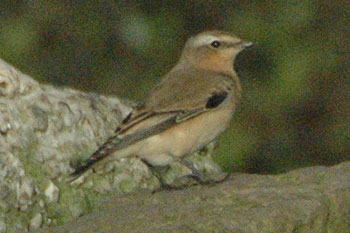 Sand Point 26th October
strong southerly wind making a lot of the birds fly low enough to be identified easily. bramblings could be picked out of chaffinch flocks well today. most birds moving west again. several finches could be heard calling from the bushes on the north side of the trig. The strong wind must have caused some of them to rest briefly before flying out to sea.
60 redwing some showing plumage of the icelandic race. see pic below
70 brambling
350 woodpigeon
750 chaffinch
15 redpoll
400 starling
4 alba wagtail
200 greenfinch
10 meadow pipit
40 siskin
2 yellowhammer
3 mistle thrush
2 reed buntings
6 jay
3 skylark
1 stock dove
5 fieldfare
3 bullfinch
1 blackcap
icelandic redwing and fieldfare: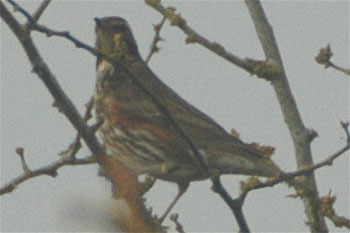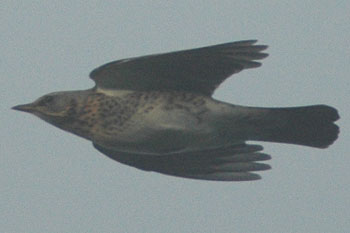 Sand Point 27th October
strong south wind again. most birds moving west after coming in straight off the sea or from the east.
2,000 chaffinch
6 redpoll
10 siskin
1,300 starling including a flock of 600 through at mid-day
80 fieldfare not easy to count as some were flying high west and then returning.
5 bullfinch
120 brambling
140 redwing the ones close enough could be identified as the icelandic race. a lot had moved in overnight and were present at dawn
700 woodpigeon including a flock of 400 through early morning
43 skylark most moving through from mid morning onwards
1 ring ouzel female/imm favoured the bottom track on the south side just before swallow cliff until 12:45 at least
1 dartford warbler on the bottom track on the south side
3 blackcap in bushes on the north side buses north of trig
100 greenfinch
1 female type merlin low west over the trig
4 alba wag
1 stock dove
1 yellowhammer
1 lapland bunting in past the trig calling and then flew W
3 reed bunting
2 mistle thrush
Sand Point 28th October
brief visit this morning. 7:50 - 8:50:
1 ring ouzel still present along the south track before it reaches swallow cliff
1 dartford warbler in same area as ring ouzel
300 starling
50 woodpigeon
50 chaffinch
1 brambling
4 mistle thrush
3 bullfinch
4 siskin
1 alba wagtail
Sand Point 30th October
strong south wind with light intermittent showers until 8:30 when rain got heavier.

All diurnal passage moving west
1 chiffchaff by toilet block
3 brambling
chaffinch 94
greenfinch 8
fieldfare 2
mistle thrush 3
redwing 5 (at least 3 of icelandic race in bushes nr swallow cliff)
song thrush 5
merlin fem/imm with a catch north side of trig flying east
goldfinch 7
2 redpoll
1 siskin
starling 400 including a flock of 300
Half term sightings:
Friday 28th Oct: 3 Hawfinchs went south over Balmoral Way, calling, at about 2:10 as the weather cleared after rain most of the morning.
Sunday 30th Oct: adult winter Med Gull on the beach lawns with Black-heads opposite the sea life centre.
Sand Point 31st October
1 swift sp lingered over the trig for 4 minutes between 7:34 and 7:38 and then drifted south east. best shot i managed to get is below. unfortunately the image has been silhouetted due to light conditions and having the camera on the wrong settings.
most birds moving west again except for the skylarks and alba wag
850 chaffinch
12 brambling
4 siskin
1 alba wag
8 bullfinch together over trig
2 linnet
600 starling
2 reed bunting
3 skylark
1-2 yellowhammer 1 in bushes nr swallow cliff
8 redpoll
1 lapland bunting high west calling
2 fieldfare SE
1 mistle thrush SE
swift sp seen this morning: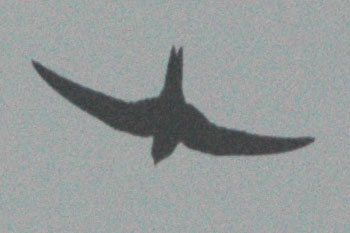 After having had some time to review this bird my conclusion is that the bird is more likely to have been a common than a pallid swift although this is not conclusive.
The wing tips are meant to be a way of separating these two species with pallid having P9 longer than P10 and common swift having P10 as the longest. In reality this doesn't seem to be a reliable feature. It doesn't take long to find pictures of Pallid with pointed wing tips plus many skins have shown common and pallid with identical tips. This bird shows one blunt and one sharp tip which could suggest common swift. Also on other photos one tip looks more pointed than the other.
Paul G spent a lot of time looking at the bird through bins and didn't mention that the bird looked pale until it started to drift off. At no time was it mentioned that the bird had a pale panel on the secondaries.
Other differences in biometrics are the rectrix. the difference between t4 and t5 would help but the photo isn't clear enough to be able to tell. The camera was on manual focus because of the difficulty in photographing the bird, also the camera pushed by +0.7 stop silhouetting the bird.
I haven't spoken to Paul since the sighting to get his opinion but I guess he may well be able to add some more to this.
quiet passage for the second day in a row.
all birds moving west again:
55 chaffinch
1 siskin
3 redwing
3 greenfinch
1 brambling
also recorded:
1 fem blackcap in bushes north of trig
7 bullfinch inc 5 together along track to house
several song thrush and blackbirds.
Sand Point 3rd November
13mph westerly wind. Recorded westerly passage between 07:30 and 08:45
112 chaffinch
44 greenfinch
2 redpoll
6 goldfinch
15 starling including a partial albino bird with white on the upper wing coverts.
2 stock dove north over trig towards newport and lost to view half way across the channel.
9 woodpigeon
3 meadow pipit
1 brambling
grounded birds:
1 fem type merlin towards the point and had a go at one of the migrating finches.
1 female blackcap north side of car park
c.6 bullfinch
6th November
Spent a lot of time looking for a non-existent Laughing Gull this morning. Couldn't find many gull flocks to go through.
1 adult winter Med Gull on Weston Airfield in flooded section on north side. Also 40 Lapwing, 2 Stonechat and 5 Redwing.
At Weston STW:
1 Short-eared Owl hunting over fields 200yds east of STW
47 Snipe flushed from UV pools when a sparrowhawk went over
25 Black Tailed Godwit
1 grey partridge
40 Skylark
1 brambling east over
2 chiffchaff 1 at wildfowl lagoons and 1 nr blue gates
60 Redwing
On UV pools 6 Gadwall, 30 Pochard, 15 Tufted Duck, 5 Wigeon, Water Rail.
Uphill 7th November
birds moving in from the north east and heading south west towards berrow:
65 Fieldfare
230 starling
4 brambling
1,380 redwing
1 mistle thrush
340 chaffinch
7 skylark
38 woodpigeon
60 greenfinch
3 bullfinch
4 alba wagtail
3 reed bunting
3 siskin
9 redpoll
15 song thrush
A flock of 7 out of the 9 Redpolls seen today landed in the buckthorn clump nr the badius shrike site. I photographed some of them that came on to weeds to feed. After some head scratching i decided that they were Lesser Redpolls - cabaret.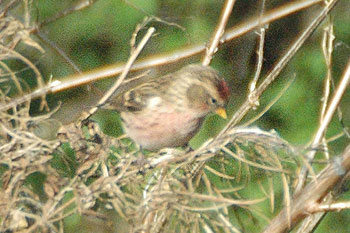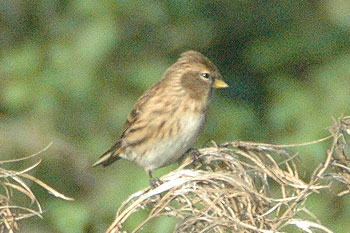 Uphill 8th November
despite the 18mph southerly wind there was still some visible migration. Even the finches didn't seem to have a problem flying into the wind although they were flying a lot lower, just above ground level. The birds appear to be coming not from over weston as i thought yesterday but more of a coastal passage.
between 8:00 and 9:00:
420 Redwing
110 chaffinch
10 greenfinch
12 fieldfare
160 starling
2 reed bunting
1 siskin
1 redpoll
Weston Airfield 10th November
9 Whooper Swans being flown down the runway this lunchtime. The first time I've seen anything take off from there in years!
Also:
90 Lapwing
50 Black Headed Gulls
3 Common Gulls
20 Herring Gulls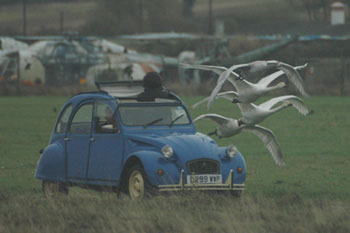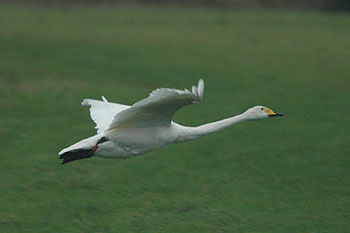 Sand Point 11th November
winds changed from southerly to 7mph westerly
most birds moving west
most surprising bird was a whinchat that came in off the sea with a flock of chaffinches over the trig and then flew east on its own.
40 redwing
10 woodpigeon
250 chaffinch
150 starling
4 mistle thrush
15 greenfinch
4 goldfinch
16 fieldfare
5 bullfinch inc. 3 in bushes above car park
2 brambling
3 siskin inc. 1 briefly in car park
1 reed bunting
1 female blackcap in bushes above car park
1 redpoll briefly in car park
Uphill 11th November
16mph south westerly wind this morning with a few spots of rain.
Of interest, happened to follow a flock of finches migrating along the beach and recorded their speed as 20mph into the headwind.
Birds flying south west:
10 fieldfare
200 starling
120 redwing
3 song thrush
35 greenfinch
40 chaffinch
26 woodpigeon
6 linnet
2 siskin
3 brambling
2 alba wag
Sand Point 12th November
westerly wind with a couple of showers early morning
most birds moving west again:
12 siskin
4 redpoll
150 chaffinch
2 brambling
45 woodpigeon
2 chiffchaff
30 greenfinch
several bullfinch
3 mistle thrush
1 fieldfare
4 redwing
1 adult female merlin. bird was noticebly large almost like a small peregrine. A lot paler than the lingering fem/imm.
Yeo Est 12th November
At dusk there was a Pale-bellied Brent on the sea, Water Rail calling, and Cetti's warbler singing.
Sand Point 14th November
cyclonic conditions due to a high pressure system out to the west.
birds moving in all directions this morning:
2 stock dove in from the north and flew south
12 bullfinch 8 in bushes and 4 over
20 woodpigeon in bushes
1 male blackcap nr toilet block
2 yellowhammer 1 in from the west and 1 in from the north both flew east
66 chaffinch 40 west and 16 north
20 greenfinch west
6 siskin 4 west, 1 cirling the point and 1 north
4 brambling over
1 Richards Pipit high west called 3 times at c.08:00
2 chiffchaff 1 between trig and swallow cliff flew towards point and 1 nr car park
10 redwing 1 was of iclelandic race
several blackbird around inc. 3 in off the sea from the north east and flew west
3 mute swan 2 adults and 1 imm in from the south and flew north east
1 redpoll over
2 reed bunting in bushes
1 skylark east
1 grey wagtail north
Sand Point 13th November
6 Crossbils low north over the steps at 9:15
Apart from that, rather quiet.
Sand Point 15th November
cloudy day with a light northerly.
hardly any finch passage this morning.
1 Crossbill came in from the south calling, presumably via the beach. flew over middle hope and headed towards clevedon.
1 stock dove north
65 Redwing in 2 groups (45 and 20)
1 blackcap nr toilet block
1 chiffchaff nr house
several bullfinch around
30 woodpigeon lingering.
still quite a few blackbirds and song thrush around.
Sand Point 16th November
12mph north westerly.
birds coming in from the south east and south.
50 Woodpigeon
300 starling
45 greenfinch
4 brambling
3 siskin
1 chiffchaff nr house
1 fem/imm Merlin hunting
5 chaffinch
3 fieldfare
15 redwing
Sand Point 17th November
2mph south easterly
A lot of birds coming in from the south east and south. A lot flying out to sea and coming back again.
160 woodpigeon
60 greenfinch
25 chaffinch
70 starling
3 siskin north
3 redwing circling
1 chiffchaff nr car park
1 dartford warbler in sand bay
2 fieldfare in from the south and circled
several bullfinch still present including some in sand bay
19th November
sand point:
14 lapwing north
13 siskin
66 woodpigeon
13 greenfinch
34 fieldfare 9 north and 25 in bushes nr house
1 snow bunting on rocky slope on 50yds before the point
2 chiffchaff 1 nr house and 1 in bay
woodspring bay (this site is private and requires permission from the land owner)
2 richards pipits in fields on corner of river yeo
26 grey plover
2 knot
1 chiffchaff at STW
2 whooper swans on the mud off sea wall at channel view viewable distantly from the Yeo Est.
6 White-fronted Geese flew up the Yeo Est circled and landed in a field on the Clevedon side.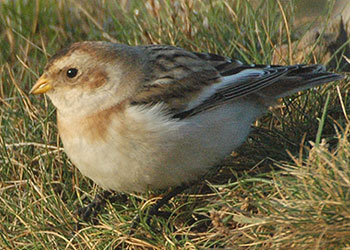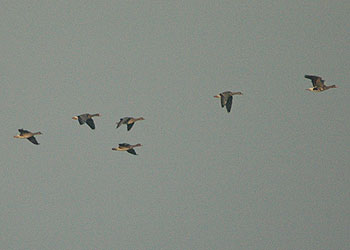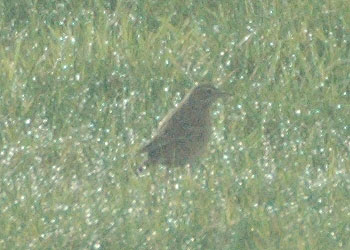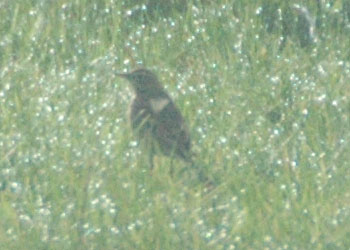 Sand Point 22nd November
No sign of snow bunting this morning but a male black redstart on rocks on the south side of the point this morning. also a chiffchaff nr the car park.

23rd November
Swallow present from 11am to 12noon. It was flying between the Royal Hotel and Birnbeck Pier, over Prince Consort Gardens, feeding. It seemed to have a regular flight pattern in the area and passed over many times. Sometimes it passed within a matter of 2 or 3 metres. per Tony West
Sand Point 23rd November
1 adult male black redstart still present at the point this morning. Better photos show that the bird appears to be a typical gibraltariensis.
1 chiffchaff nr the car park
5+ bullfinch along the bottom track on the south side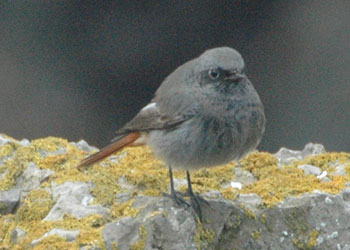 Sand Point 29th November
No sign of the black redstart this morning.
With conditions favourable for migration a small passage of finches witnessed. Light northerlyturning towards light north westerly by 9:00
20 Chaffinch north
20 Greenfinch north
flock of 25 finch sp through
Also recorded:
8 Bullfinch 3 male 5 female
1 chiffchaff nr house
3 Redwing
semi overcast with light northlies (8mph)
still a tiny amount of migration noted:
13 chaffinch 6 north 7 grounded
11 greenfinch north
also:
2 chiffchaff nr house. both looked similar plumage.
150 dunlin in bay.
1 jay
2+ bullfinch
2 fieldfare in bay
2 redwing in car park
Sand Point 7th December

windless conditions
2 redpolls 1 north, 1 east
2 siskins 1 east, 1 car park
1 chiffchaff at the car park
12 fieldfare south
4 chaffinch north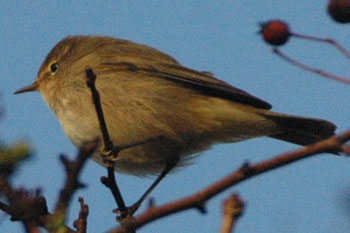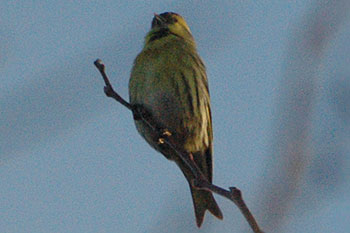 Sand Point 10th December
1 Richards Pipit heard and seen in the marsh at sand bay. Bird was associating around the centre of the marsh and last seen landing nr a "Y" shaped twig.
60+ Woodpigeon in the bushes above the toilet block
1 chiffchaff nr toilet block
1 fieldfare
4 Bullfinch
Sand Point 13th December
3 Short Eared Owls in the marsh
Sand Point 17th December
6 Purple Sandpipers at Birnbeck high tide roost
1 Dartford Warbler bottom track on south side of the point
1 Short-eared Owl in the bay
2 Chiffchaff 1 toilet block, 1 nr house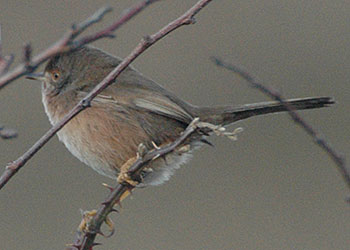 Sand Point 18th December
4 Water Pipits in the marsh. Associating along a channel with muddy water in the north east part of the marsh.
2 brambling 1 high south with 13 chaffinch and 1 commuting between the bay and sand point
1 male Blackcap in bushes on the east side of the style on south side
1 Chiffchaff nr house
1 Redwing at the point
Sand Point 19th December
1 fem type Merlin in the marsh perched for over an hour
1 Siskin west
3 bullfinch
1 Chiffchaff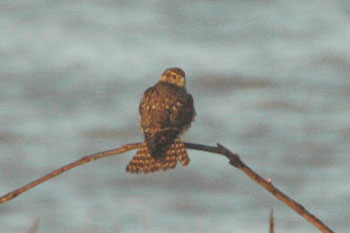 Sand Point 20th December
Am now uncertain of the pipits i.d. in the marsh on saturday after seeing a group of 4 today in the same channel of muddy water. Below are some photos taken yesterday.
An article on Rock and Water Pipits in this months issue of Birdwatch magazine states that these birds can be separated by their ecological differences. Therefore testing this water should reveal whether these birds are Rock or Water Pipits.
female type merlin north over the marsh this morning
3 siskins lingering around the trig area this morning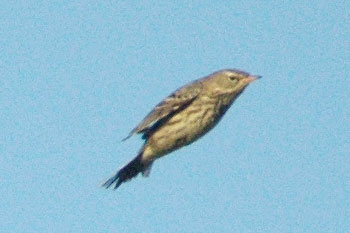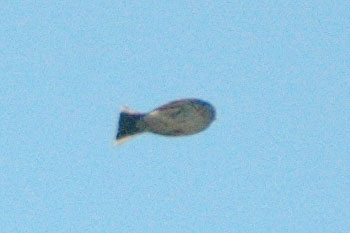 River Axe 27th December
1 Green Sandpiper
7 Goosander (4 drake)
29th December
weston stw:
13 golden plover low south
67 mute swan off accomodation road
110 Wigeon
15 Gadwal
15 pochard
15 tufted duck
60 teal
6 grey partridge
50 skylark
1 black tailed godwit
1 green sandpiper
also recorded in recent days:
1 spotted redshank
1 common sandpiper
1 jack snipe